Variety : Taleseed develops Contempo Series Inspired by Dumas's 'The Three Musketeers' (EXCLUSIVE)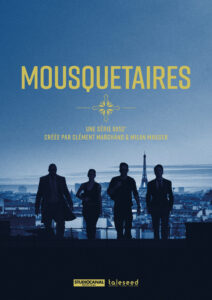 Taleseed, a Paris-based outfit launched over a year ago by a trio of experienced French media executives, is developing "Mousquetaires," a contemporary series inspired by Alexandre Dumas' classic "The Three Musketeers".
The banner, which is headquartered in the Parisian start-up campus Station F, was founded by Valérie Billaut, Stéphane Cadoch and Hugues Laigneau. Billaut, the banner's CEO, spent 20 years working at Canal Plus and M6;
Cadoch previously headed TF1 Distribution; and Laigneau also worked at the TF1 Group in the advertising sales division.
The series is being penned by Clement Marchand and Milan Mauger, who recently partnered up on the script of "Tous pourris" and "La professionelle" for Pathé. Marchand has worked for Canal Plus's popular talk show Le Grand Journal and the satirical program les Guignols. Mauger is an actor-turned-scribe who notably starred in "Sans Rancune" with Thierry Lhermitte and directed the short "L'adjoint avait une barbe."
Lire l'article ici : https://variety.com/2021/tv/news/taleseed-musketeers-1235087173/
Découvrez nos contenus en développement ici : https://www.taleseed.com/content-production/